Our aim is to deliver a website that tells your story, promotes your brand identity and meets your business goals. We do this using only the latest web technologies and digital marketing techniques, maximising your online visibility and achieving ROI as quickly as possible.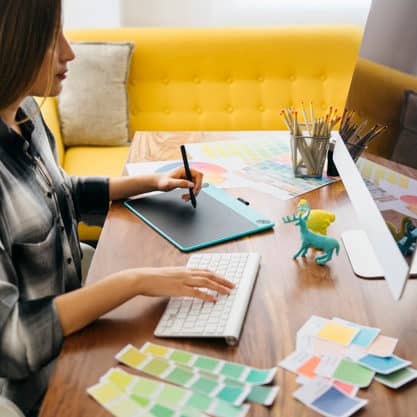 At INK, we apply a simple, easy to follow, 5 step process for all of our website design projects, from ecommerce stores and portfolio websites through to 'brick and mortar' local business websites.
Step 1: Quotation & Evaluation
The quotation and evaluation stage is where we gather all of the details and specifications to determine what exactly you are looking for.
To ensure your new website radiates brand identity and personality, we use this stage to learn as much about your business as possible.
Prior to finalising your quotation, we offer an informal conversation over telephone or face-to-face to ensure we're heading in the right direction.
Step 2: Proposal & Agreement
Armed with the information gathered about your business, we build a bespoke formal proposal for your project. The proposal will include all of the details of what your website design project will include, as well as an estimated time for completion and a quotation.
If you're in agreement with our project proposal then it's time for our team to get started with the planning stage.
Step 3: Planning & Research
By now, we'll have a solid understanding of your business goals, target audience and competitive landscape. This information becomes invaluable for our 'Planning & Research' phase, helping us to plan a website that tells your story and pushes you closer to your goals as a business.
Step 4: Design, Coding & Programming
By step 4, things will start to come together. With your requirements in mind we'll create a mock-up of your website. We'll produce as many design concepts and revisions as you need in order to reach a finalised design that you love.
Once the design of the website is finalised, we can start working on the coding and programming.
All of our projects are guaranteed to be cross-browser compatible, fast loading and SEO friendly.
Step 5: QA Testing, Website training & Launch
We'll work closely with you to test the functionality of the website, as well as providing you with training on how everything works so you can jump straight into updating the site as you please.
Once you're pleased with the functionality of the site and understand how everything works, we'll launch the site. From there we'll be on standby to answer any queries and make any adjustments or additions to your site in the future.